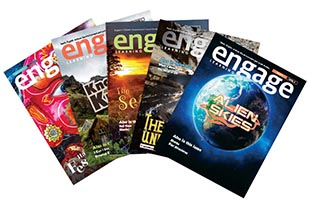 Reading and learning independently is more important than ever. Engage's nonfiction readers teach and build reading skills while teaching science and social studies content. Written at five different reading levels, we have a level that is just right for your child. Our readers develop reading skills by teaching parts of speech, grammar, punctuation, and decoding strategies. While children learn these important reading skills, they also learn the content they need for success in the subject areas. These readers teach reading and the subject areas at the same time so students save time and develop the skills and knowledge they need for success in school and life. Many of the stories in the readers focus on India, providing local examples and connections. No other reader develops reading skills, teaches core content in the subject areas, and features examples from around India. Best of all, each reader is fun and important to read.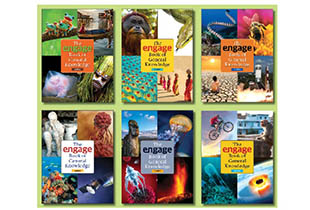 These General Knowledge books are unlike any others. Each lesson connects to both the curriculum and the real world. They teach science, social studies, math, life skills, the environment, health, and values. Brilliant photos illustrate each lesson and spur on the learning. Each lesson consists of a reading passage and a written activity. These books will add real educational value to your classroom.

Our PreK readers are needed now more than ever. Each reader is carefully designed to develop school readiness and independent learning. Each reader has a read-aloud feature that allows children to listen to each word so they can associate sounds with letters. This feature turbo-charges children's reading skills. As they learn to read, students learn the background information they need for Kindergarten. They learn letters, sounds, numbers, colours, sizes, shapes, and much more. The Themes covered in the readers are (1) Variety of Animals, (2) Harvest Festivals, (3) Fitness & the Human Body, (4) Communities, (5) Transportation, and (6) Farms. And new themes are added periodically. These readers teach reading, develop a critical knowledge base, prepare children for school and independent learning, and make learning fun.

Today, science literacy is more important than ever. Science impacts our lives, whether we know or not. whether we understand it or not. PreK Science teaches reading as well as science vocabulary and concepts at the same time. A read-aloud feature allows children to listen to each passage over and over again. This helps them associate sounds with letters and words. Both the reading skills and science knowledge will prepare children for Kindergarten, higher class levels, and for life. PreK Science teaches basic math concepts that relate to science, the difference between living and non-living things, the human body, what plants and animals are, and how to sort and categorize objects. Engage PreK Science gives children an edge over all the other children.

Our first issue in this series, Covid-19 and Other Invaders, teaches about the virus that causes Covid-19, other kinds of viruses, and bacteria. It teaches students how to protect themselves from germs and how germs affect their bodies. It gives them the knowledge they need to survive in a post Covid-19 world.

Using colourful photos and storytelling, these books teach students the core curriculum. They replace the traditional textbook with books that students want to read.

These are a series of ever-changing workshops and presentations that range from how to teach using the Internet to How to teach about Covid-19. Check back often to learn about new presentations and workshops.